Let's make your product and team
a success
thoughtbot is your expert design and development partner. We bring digital products from validation to success and teach you how because we care. It's time to move beyond simply building features and start designing the right product with the right strategy.
Let's talk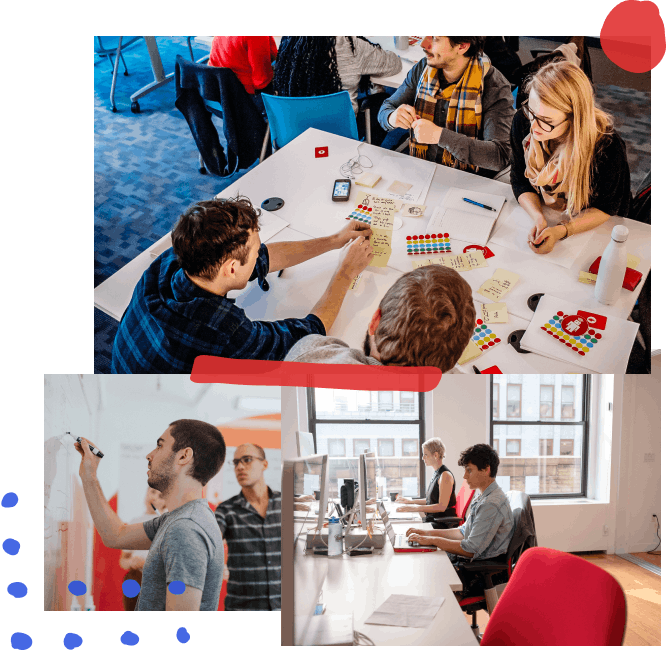 startups, scale-ups, and beyond
Positive outcomes for hundreds of web and mobile projects like yours
DigitalOcean — Integrating a content management system to help marketing move faster
Read the case study
Our services
Your expert partners for building mission-driven products
Benefit from over 16 years of experience designing and building successful products. From a founder with an idea to product owners at large enterprises and everything in between, the thread that ties them all together is solving meaningful problems with a design-led approach. You'll be working with a small, dedicated team of project-focused product experts built to fit the needs of your project.
Learn more about our services
While working on your project:
Understand your business and user goals
Validate your product assumptions
Collaborate openly with you
Work in weekly iterations of focused work
Adapt our team based on your project needs
Our clients
We're proud to partner with clients on meaningful solutions.
Learn more
Service Highlight
Supporting you through COVID-19
The COVID-19 pandemic has affected us all, and will have a lasting impact on our lives. thoughtbot is here to support your product and team during this challenging time. Whether you are providing essential services, helping to solve the current crisis, or innovating to prepare for the future, we want to talk with you.
Learn more about how we help
Online Workshops and Events
Watch online workshops that unstick your product strategy, level-up your team, and uncover next steps
Join the thoughtbot team and our special guests as we tackle today's biggest product challenges. During our workshops, we cover the latest from the latest on how COVID-19 is impacting our product, design and development process to thoughtbot's tried and true process.
Check out our events
Client testimonial
Our team is driven by our purpose and values; we continually improve our process, do our best work in strong partnerships with you, and transparently share how we work.
Learn more about our company
Industry Highlight
Advance healthcare with quality health tech solutions
Healthcare companies choose thoughtbot because products built with care improve outcomes for patients and providers.
Learn more about our approach
Resources for Entrepreneurs, Designers, and Developers
Reap the rewards of everything we've learned while building successful products
What does success look like for your project?