Product strategy meets successful delivery
Building first-version products is inherently challenging and risky. Especially when it comes to ensuring product-market fit, navigating complex requirements, and meeting the varying needs of the customer. While we can't eliminate all of the risk, a strong Product Manager can mitigate aspects of it while strengthening the overall delivery.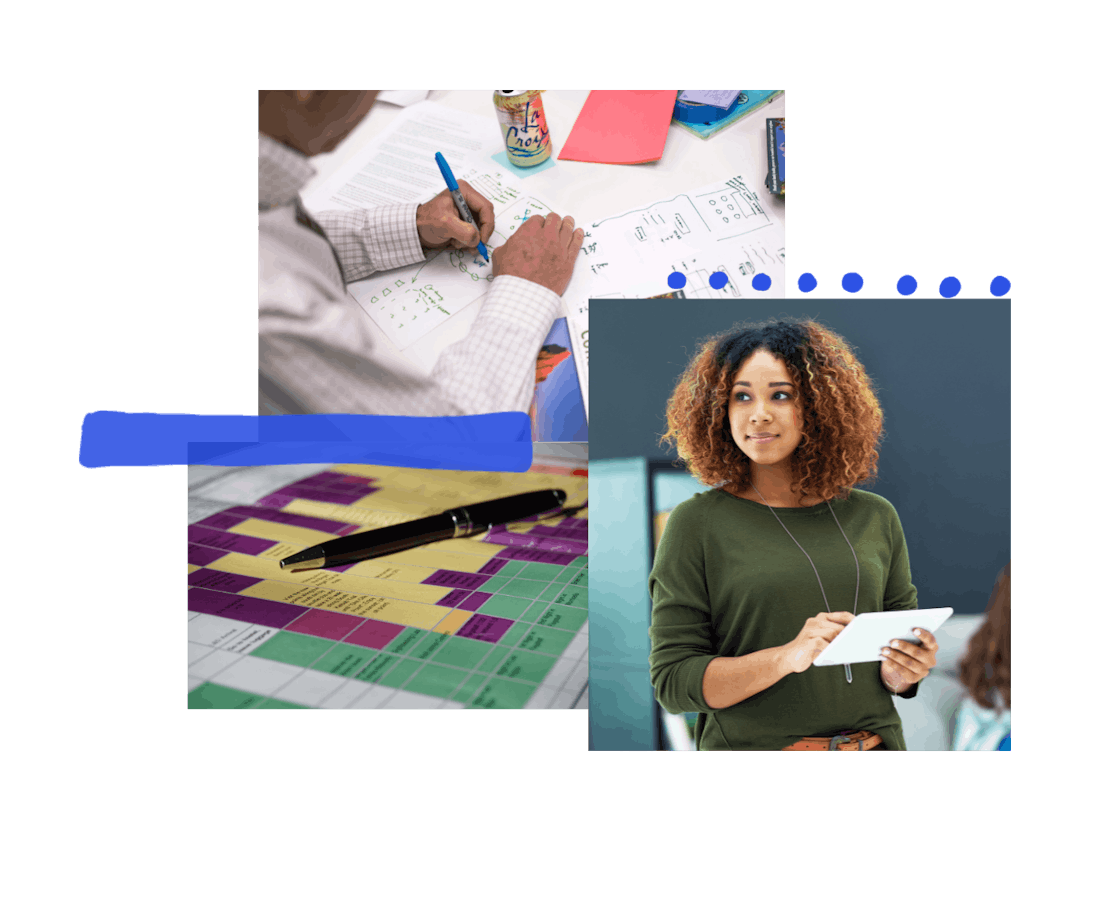 Crafting a product vision to meet your business needs
Building a roadmap for version 1 and beyond
Having a focused go-to-market strategy and product roadmap is imperative for any first version launch. From the very beginning, our Product Managers work with your team to uncover the right go-to-market strategy, set the project up for success, and assemble a team with the right type of experience and skill sets.
Our Product Managers:
Identify the root cause and problem statements
Focus in on the target users and critical path
Call out assumptions and dependencies
Run experiments to test, gather information, and validation assumptions
Use feedback to inform the foundational product strategy
Prepare a prioritized roadmap outlining implementation details and milestones
Quote from JoyDrive, CEO
Setting Up the Project For Success
Creating a space for team members & partners to do their best work
Once a high-level go-to-market plan has been created and the team with the right skill sets has been assembled, it's our Product Manager's responsibility to ensure that everyone has a space to do their best work. Product Managers come equipped with best practices for each phase of the product delivery lifecycle.
As design and development gets underway, Product Managers lead the collective effort across interdisciplinary teams to make sure that there's alignment, information is flowing to the right team members, and that the proper mechanisms for communication, tooling, and working practices are in place and documented.
CUSTOMER FOCUSED PRODUCT ITERATIONS
Using customer feedback & KPI's to inform product strategy
Your product is an evolving application that ebbs and flows with the ever-changing needs of your business and customers. Our Product Managers have a sound approach to help achieve customer adoption goals and stay closely in-tuned with their motivations and pain points.
Custom adoption goals will be established and reported on through clear product KPIs. To keep a deep understanding of customers, channels will be established allowing both qualitative and quantitative feedback to be collected regularly. This feedback will not only inform how we are tracking towards KPIs but they will allow us to confidently evaluate performance, validate assumptions, prioritize the roadmap, and uncover the next set of features that will deliver the most value.
Quote from Corverix
TEAM AND PROCESS IMPROVEMENT
Establishing best practices while driving delivery
What sets our team apart is our ability to move your team and process forward while also building products that people love. A product is only as great as the team supporting it, which is why mentorship, knowledge sharing, and best practices documentation is such an important part of our delivery. Our Product Managers make sure your product, processes, and team are all improved as a part of our work together.
Let's talk!
What product are you looking to explore?