Make innovation a repeatable part of your business
How can you make innovation part of your everyday product lifecycle? It can be intimidating to open the door to new ideas or explore a technology you haven't used before. On the other hand, it is more important than ever to do so to stay competitive and differentiate amongst your competitors. Using our experience helping clients build new products and explore their own ideas, the Innovation Challenge will help you make innovation actionable with concrete steps.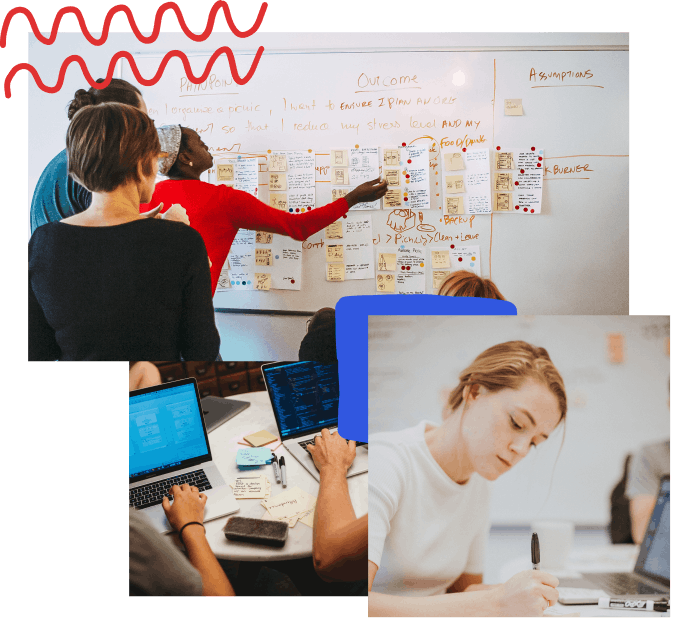 What to expect
Innovation Challenge Overview
At thoughtbot we strongly believe in using user-first design as a guiding principle in business strategy and the evolution of the right product. For a team to be successful in achieving innovation, they should have the framework to collect lots of ideas, explore those solutions through rapid prototyping and end up with an actionable, feasible approach with clear next steps.
Using design exercises as a springboard, your team will work through a problem or explore an opportunity and in parallel, be better equipped to use the Innovation Challenge framework moving forward.
It's powerful to bring in lots of perspectives and our design exercises allow everyone to be heard but also guarantees a path forward. Being able to embrace ideas from upper management or explore what feels like a complex problem doesn't need to be overwhelming. Having a repeatable process for working through ideas makes sure decisions and progress are made.
Using a repeatable framework also minimizes time spent and maximizes the overall investment. Not only are you getting to a decision faster, but also landing on a solution as a team that finds the right balance of creativity, customer impact, and engineering feasibility.
Outcomes
Embrace new ideas and creative thinking
Quickly validate with customers and identify the right next step
Save time and money by efficiently making decisions as a group
Tools in our tool box
Relevant resources and thought leadership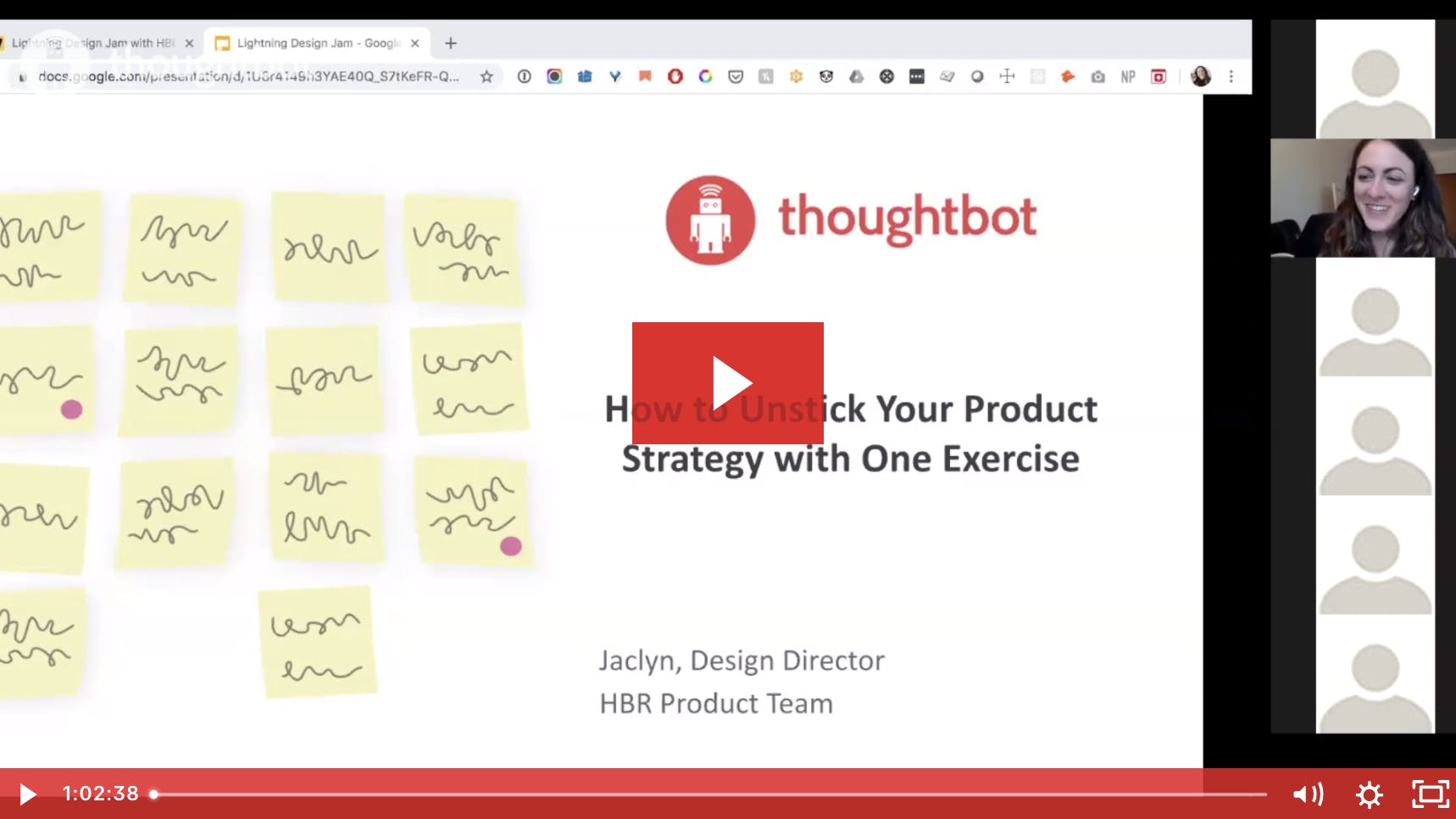 Watch thoughtbot Design Director Jaclyn Perrone facilitate a live, unscripted Lightning Design Jam with the product team at HBR
Watch the workshop recording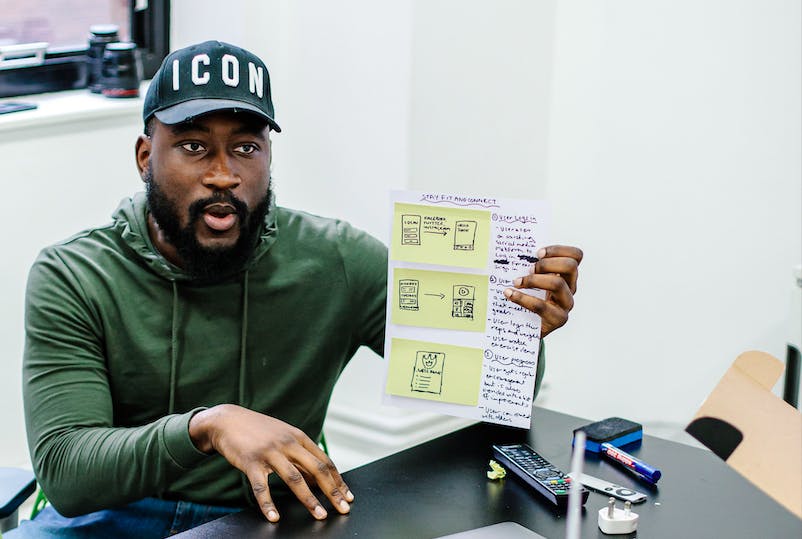 Product Design Sprint Guide
One of our most frequently used tools. So helpful we decided to build a guide.
PDS Guide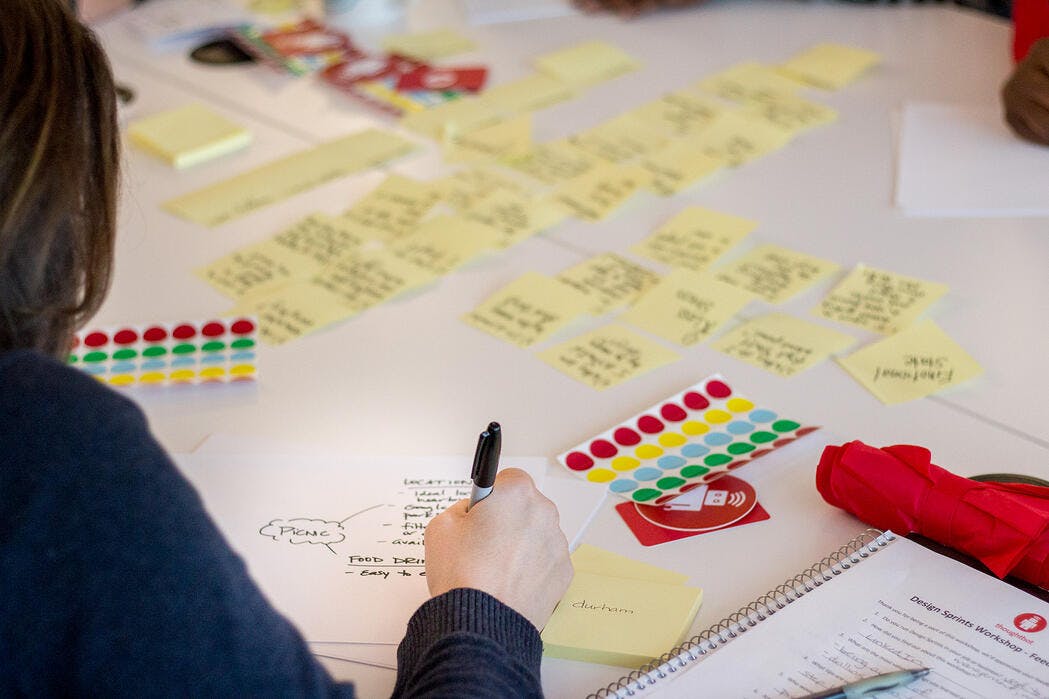 Coming out of a PDS, how to break it down into a prioritized feature list.
Read the full blog post
Let's talk!
How can we help get your team to the next level?