Health Tech strategy, design & development expertise for all stages
As our top industry, thoughtbot has the experience, and best practices for uncovering, designing, and building highly impactful health tech products. Our compassion for improving the world through technology, and empathy for patients and providers, make thoughtbot a superb partner for your Health Tech initiative. thoughtbot makes Health Tech innovation actionable, utilizing an agile delivery that minimizes risks and meets compliance requirements, all while keeping a laser focus on end-user impact.
Health Tech distinction
A trusted, experienced Industry Partner
thoughtbot can confidently navigate bureaucracy and foster buy-in for your initiative. Past success includes supporting:
Security Standards (GDPR & HIPAA)
Interoperability
Pharmaceuticals
Medical Universities
Telemedicine solutions
Clinical trials and research
Workflow Optimizations
Health Insurance
Accessibility
Third-party Integrations (EHR, fitness apps, insurance databases)
Quote about process
Client Stories
thoughtbot is proud to support industry leaders and emerging startups in their Health Tech ventures. We have a number of case studies highlighting this work.
View More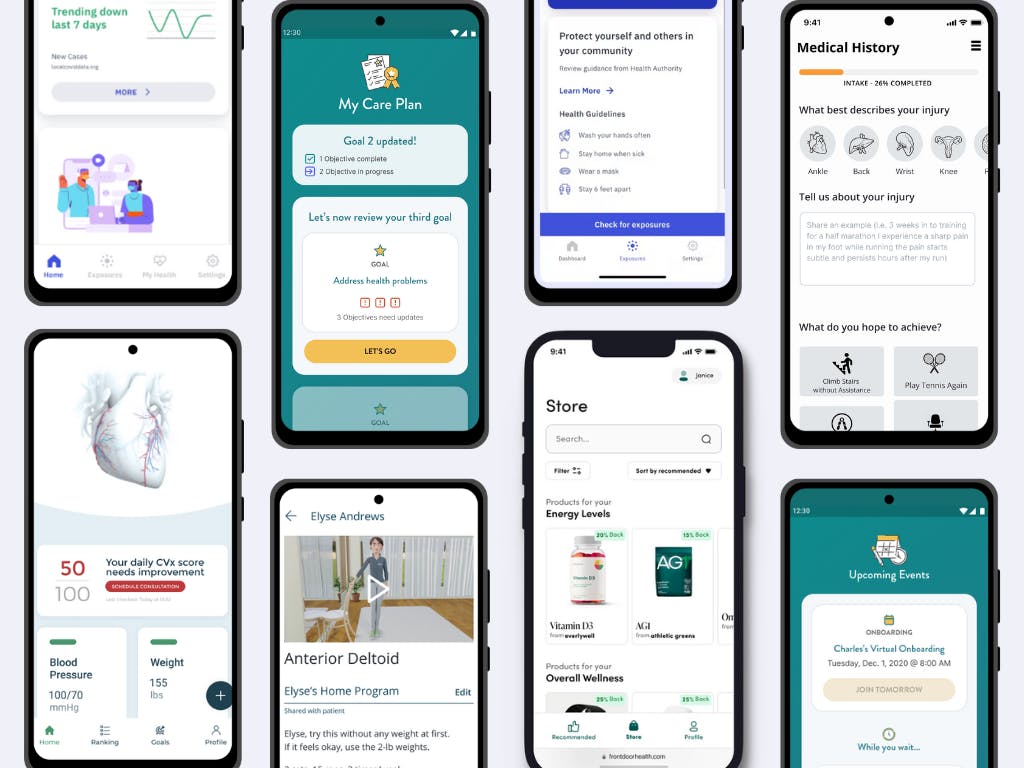 Proactive, empathetic and comprehensive
Senior expertise in each stage and vertical
Uncovering the right strategy is paramount to defining the strongest MVP or new technology initiative. thoughtbot leads engaging exercises to generate ideas, collect requirements, and drive alignment. Connecting with target audiences and stakeholders establishes the foundation of our strategy. In a few weeks, we bring all the elements together delivering a validated, user-first roadmap that prioritizes the right features and minimizes risks.
The most effective experiences are backed by thoughtful, user-first design. Keeping a pulse on the target audience's needs, challenges, and motivations, we successfully translate those findings into UI/UX and interactions outside the product itself, helping to craft the most impactful experience. Our design approach ensures deep adoption, and the close collaboration with development keeps in mind business requirements and compliance standards throughout.
Health Tech is a highly impactful, but also sensitive industry. Compliance and security regulations, set standards to keep patient and provider workflows and data secure. Having navigated numerous integrations, and requirement standards, thoughtbot development efforts deliver a top-quality, scalable, and secure foundation that can continue to evolve. thoughtbot can lead greenfield builds or ramp up on an existing product confidently.
Quote about working with thoughtbot
what sets thoughtbot apart
Influencing change and making innovation actionable
For large Health Tech organizations, workflows and technology solutions are complex and critical to maintain. Introducing change, and uncovering opportunities allow you to evolve and continue to best serve your customers, but the risk of failure can feel daunting. thoughtbot 's approach to upfront research and technical feasibility planning helps to navigate the most complex, risky situations, and our recommendations show a clear action plan for execution. Our delivery process uses standing meetings, and clear communication so all stakeholders have confidence in delivery at each stage.
thoughtbot perspective
First-hand learnings, resources, & strategies
Agile in Health Tech Workshop
Check out our Senior Developer share their guidance on how to stay agile when building compliant health tech products.
View Workshop
Design as a Differentiator
In 2020, the health tech industry skyrocketed due to COVID-19 impacts forcing patients, doctors, and services to change how they administer and receive care. This report is a full analysis of trends and challenges.
View Report
Our team of experts is constantly sharing their learnings and perspectives. We have an inventory of thought leadership on a variety of Health Tech topics.
Check out our Blog
Let's Talk
What does success look like for your Health Tech project?