Bring a quality product to market and get ready to scale with thoughtbot Lift Off
Your company's growth depends on innovation that forges new and exciting business opportunities. thoughtbot Lift Off is a team of product experts that can help you navigate complex design and development decisions, guiding you from your starting point to a fully functional product team and widely adopted product.
Let's talk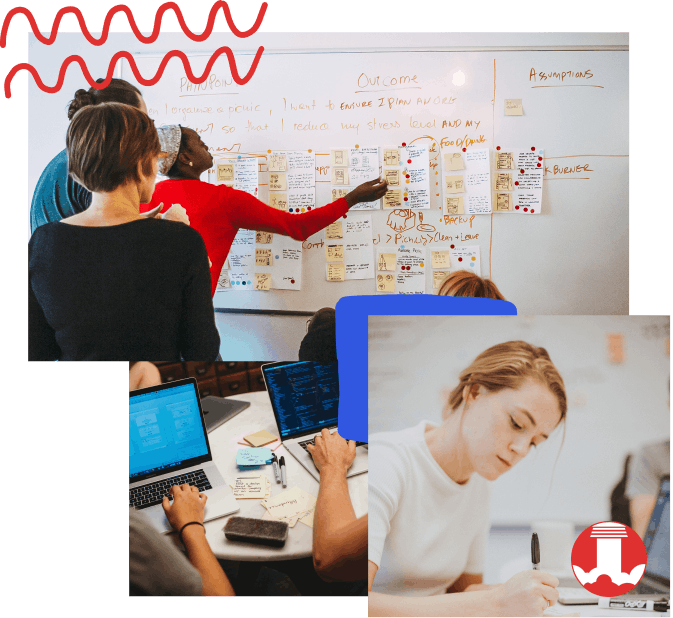 Complex MVPs and V1 products
Make the right Go-to-Market decisions for your business
When you're getting ready to create a larger, more complex Minimum Viable Product or version 1 of your product, you have many difficult decisions to make. These strategic considerations will impact your product far into the future, so you want to make them wisely. 
Working with an experienced technical partner you can trust is critical to mitigating risk, building a solid foundation, and setting you up for long-term success. thoughtbot Lift Off will help you navigate and execute on foundational strategic decisions.
Expert help with
technical architecture
API integrations
feature priorities
user experience
Go-To-Market
compliance
product road mapping
and much more
Quote about MVPs
Thoughtful user engagement
Grow customer engagement by expanding your product line 
Introducing new technologies brings new opportunities to create more meaningful and longer-lasting relationships with your users.  When your product team is already at full capacity, it's almost impossible for them to take this on - especially if they need to learn new technologies.   
The thoughtbot Lift Off team can seamlessly integrate with your existing team, support them where they are in the process, up-skill them in a new technology, and work collaboratively with them to bring a new product to market. Committing to a partnership like this is the best way to ensure the success of your team and product.  
Quote from InHerSight about thoughtbot
Reduce growing pains
Scale your high-growth business with an experienced technical partner
Getting the green light to grow your team and product is exciting. It's also easier said than done. You need to hire senior level team members, build new features, clean up technical debt, up-skill junior team members, and prepare your current infrastructure for exponential customer growth. You need to do all of this quickly so that you're not wasting the investment.
thoughtbot Lift Off is an experienced technical partner that can support your needs during high growth periods. With thoughtbot's on-demand expertise you'll reduce risk and accelerate product delivery. Our product strategists will help you formalize processes, establish a design system, and stabilize your code-base. 
Working with thoughtbot is unique because we also help you hire, onboard, mentor, and up-skill new team members. We'll leave you with a stable infrastructure and outstanding team culture that will benefit your business not just during the immediate growth period, but also for years to come.
Quote from Teikametrics
thoughtbot Lift Off Services
Learn more about a few of our team's specialty areas
Case Studies
Check out some of our clients
Featured Case Study
MBTA
Improving Massachusetts Bay Transportation Authority internal communication to ensure trains run regularly.
MBTA:

Read the case study
InHerSight — Partnering with thoughtbot, InHerSight was able to reduce time to market by 50% and launch a high-quality mobile application that was well received by their users.
Read the case study
LOLA — LOLA came to thoughtbot to support new product launches, improve customer conversion, and stabilize their codebase.
Read the case study
Resources for you
Check out the best practices our team is writing and talking about:
Here are some of the questions thoughtbot asks early-stage entrepreneurs to see if they are MVP ready.
Read the blog post
Doing the upfront work of building a strategic plan, business model, and understanding product market fit will set up a product for long-term growth.
Watch the video
Priority Determines Product
When we get overly attached to our initial vision, or race to launch, or try to satisfy every customer request, we often jeopardize our own success.
Read the blog post
Let's talk
What does success look like for your product?