Build world-class products with thoughtbot Lift Off
Your company's growth depends on innovation that forges new and exciting business opportunities. thoughtbot Lift Off is the most reliable cross-functional team of product experts. We help you take advantage of today's new technologies, agile best practices, and deliver enhanced user experiences.
Our goal? To successfully launch your new offering, while guiding you into a future-forward business.
Let's talk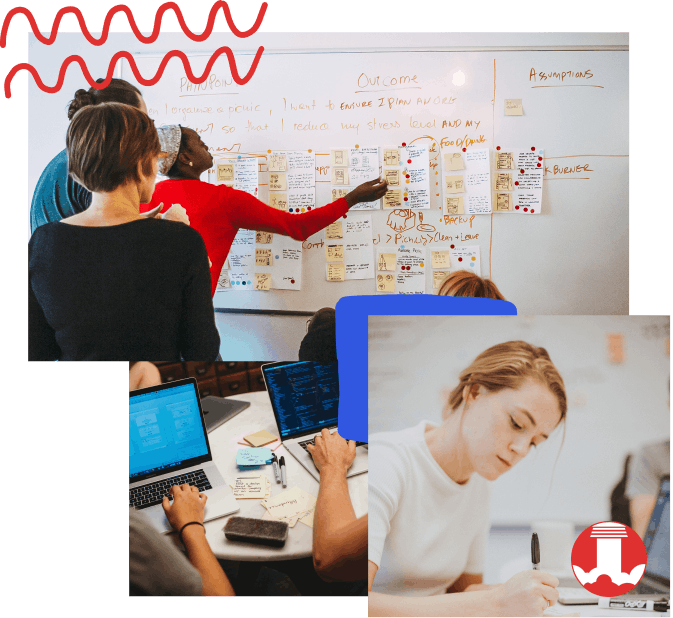 A DEDICATED CROSS-FUNCTIONAL TEAM OF EXPERTS
Make the right go-to-market decisions for your business
Building a new product requires deep expertise in new product development which may include navigating new challenges like API integrations, mobile technologies, and accessibility design standards. New product development also requires upskilling your current team which is hard to do without disrupting their essential work for your business.
thoughtbot's Lift Off team can help you achieve all of this. We provide the expertise necessary to launch the product that you need, and collaborate with your team to help them master it.
Expert help with
Product strategy
Cross-functional leadership
Roadmap prioritization
Team management
Risk management
Tech assessment
Quote about MVPs
BRING A QUALITY PRODUCT TO MARKET
Exceeding the standards for new products
Quality, reliability, security, stability, compliance, and accessibility are no longer options but requirements for today's new products. When you're getting ready to build a complex new product, you have many difficult decisions to make. Those decisions will impact your product and business far into the future.
Working with an experienced technical partner you can trust is critical to mitigating risk, building a solid foundation, and setting you up for long-term success. thoughtbot Lift Off will help you navigate and execute on foundational strategic decisions.
Quote from InHerSight about thoughtbot
WE INTEGRATE SEAMLESSLY  INTO YOUR CORE BUSINESS
Great products need a stellar team
Team Integration involves much more than technology upgrades and API integrations. It requires human connection, collaboration, up-skilling, and establishing a trusted partnership from the beginning.
The thoughtbot Lift Off team thinks about this from day one and can meet your team where they are in the process, up-skill them in a new technology, and work collaboratively with them to bring a new product to market and beyond. Committing to a strong partnership is the best way to ensure the success of your team and product.
Expert Help With
Team upskilling
Recruitment 
Remote collaboration
Product iteration best practices
Team mentorship
Quote from Teikametrics
thoughtbot Lift Off Services
Learn more about a few of our team's specialty areas
We deliver a highly usable experience and establish a product's foundation by putting Design Systems and Accessibility Standards in place.
Learn more
We design and build iOS, Android, and cross-platform React Native apps for startups and established businesses.
Learn more
Our product strategists are there from day one, helping to define a product vision, lead the agile implementation and support the GTM strategy.
We are experts in using React, Ruby on Rails, and Python to craft stellar web applications.
Learn More
Work with us to build HIPAA compliant products that improve outcomes for patients, providers, and payers.
Learn more
Case Studies
Check out some of our clients
Featured Case Study
MBTA
Improving Massachusetts Bay Transportation Authority internal communication to ensure trains run regularly.
MBTA:

Read the case study
InHerSight — Partnering with thoughtbot, InHerSight was able to reduce time to market by 50% and launch a high-quality mobile application that was well received by their users.
Read the case study
LOLA — LOLA came to thoughtbot to support new product launches, improve customer conversion, and stabilize their codebase.
Read the case study
Resources for you
Check out the best practices our team is writing and talking about:
Let's talk
What does success look like for your product?